Outdoor Speaker Depot Blog
---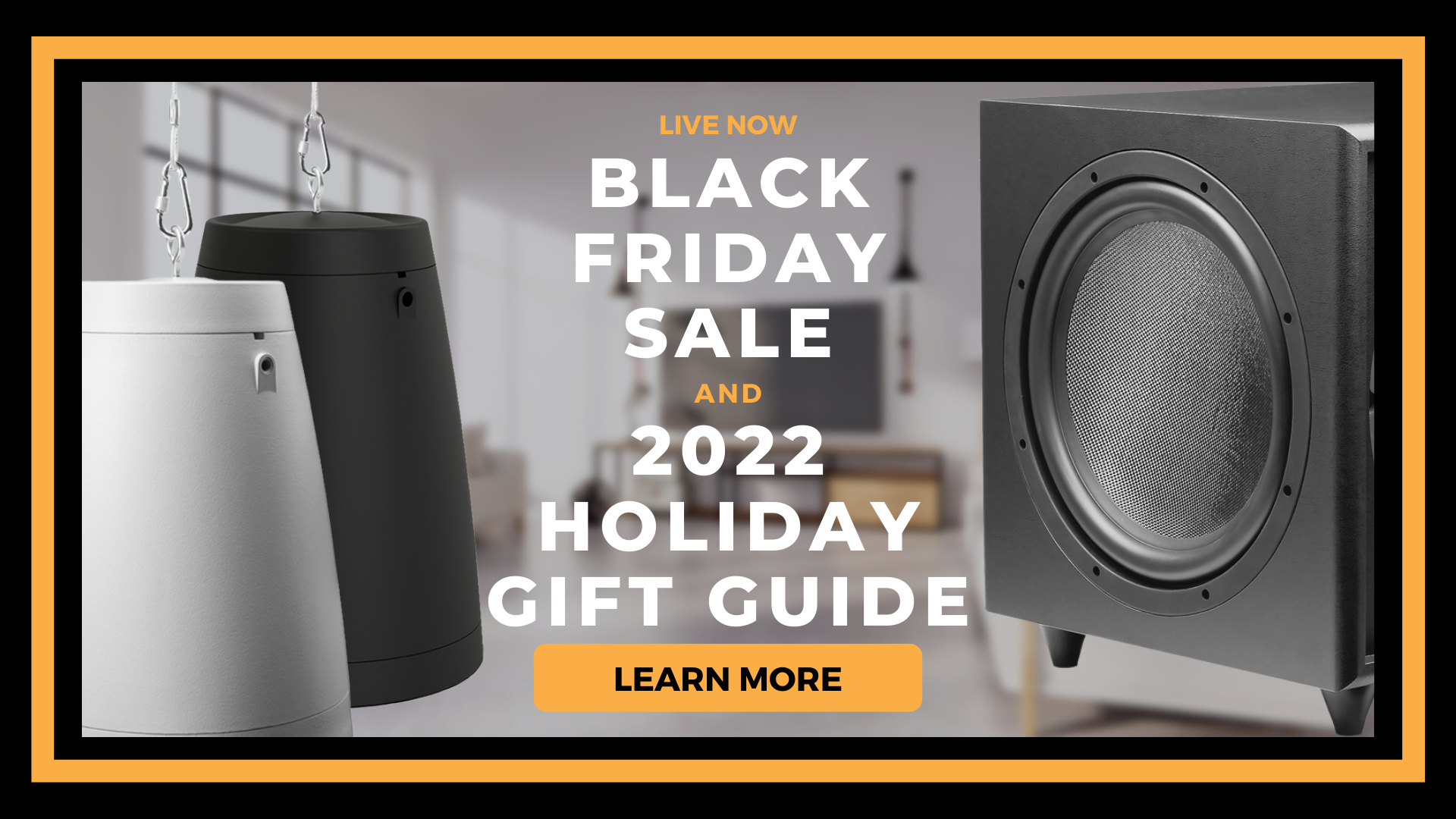 draft: by OSD Audio • last updated: November 28, 2022
Home Audio Tips, Outdoor Audio, Outdoor Tips
---

Our Black Friday Sale is Live!
It's that time of year again, when everyone is looking for the very best deals and sales so they can finish out their holiday shopping lists. And this year we have a lot of amazing items up for sale, with some items having discounts Up To 60% Off. And this includes multiple categories like our Amplifiers, Subwoofers, In Ceiling Speakers, Bookshelf/Desk Speakers, and even Bundle Deals. And if you look below you'll also see the helpful Gift Guides we've put together to make it easier for you to decide what product you need to buy and for who to buy for.
---
Gifts for the Home Office Upgrade

We all know someone who works from home at this point and maybe they're due for an upgrade to make their lives more lively as they grind through their daily tasks. Make it easy, by finding a pair of compact desk top speakers and sizeable amplifier to power them. Here's a few items below we think will make a difference in keeping up their moral and drive.
Nero MODQ3 Cube Speaker with Dual 3" Woofers and 120W Power

Original Price $69.99. Black Friday Price $62.99
Sold as a single speaker, Nero MODQ3 Modular Bookshelf/Monitor Speaker works as a stand-alone or bookshelf speaker and includes a magnetic cabinet linking system to create a wall of sound or a high performance soundbar. Connect up to three speakers for left, center, and right channels or stack two on top of each other and wire in series for double the acoustic output. This flexible bookshelf speaker can be positioned vertically or horizontally, and the metal OSD Audio logo is rotatable to accommodate both positions.
Nero Mini 3" Cube Speakers with Swivel Mount and 25W Power

Original Price $19.99. Black Friday Price $13.99
The NERO Mini Home Theater Satellite Speaker is an excellent way to enhance the sound of 2.1, 5.1 or higher home theater or to build a mini home theater or gaming system. Sold as a single speaker, customers can chose an odd or even amount depending on their requirements and room configuration or purchase numerous NERO Mini Home Theater Mini speakers to create a Dolby Atmos surround sound system. This compact satellite speaker is wall/ceiling mountable and includes a mounting bracket and pivoting ball joint that allows you to aim the speaker toward the desired listening area.
OSD XMP100, 100W Stereo Power Amplifier, Class D, Dual Source, Sub Out
Original Price $159.99. Black Friday Price $127.99
The XMP100 is the digital Class D version of our popular AMP 120 amplifier. This amp will also power Dolby Surround Sound systems and enhance the power of OSD outdoor speakers. Automatic source switching enables users to connect more than one source to the amp, so, for instance, you could use it to power both a DVD player and an iPod. The XMP100 has the ability to automatically switch sources, as well, if you choose to go from listening to music on your iPod to watching a flick on a DVD player. The power amplifier has 75 watts RMS per channel and bridgeable outputs for 160 watts RMS.
---
---
Gifts for the College Student

Your College Student is coming home for the holidays and you want to find them a gift that will help them study and keep up the hard work in school. Well a quality set of speakers can go a long way in helping them stay focused as music has shown to be effective in keeping moral up and help people concentrate better. Here's a few items below that we'd recommend gifting to your favorite College Student.
Nero MODQ2 Bookshelf Speaker Pair, 100W
Original Price $99.99. Black Friday Price $89.99
Whether you're transforming a den or spare room into a 5.1 home theater or a 2-channel system, our Nero MODQ2 Bookshelf/Monitor Speaker Pair will deliver great sound perched on a shelf, positioned on the floor, or mounted on the wall. Our Nero MODQ2 bookshelf speakers are also an amazing addition for gamers who want the thrill of an enhanced music listening experience via their PC or laptop. If you're ready to finally turn an unused room into a "fun-used" room, our Nero MODQ2 will get your there, and you'll wonder why you didn't do it sooner.
Nero MB5 100W Bookshelf Speaker Pair
Original Price $199.99. Black Friday Price $159.99
Whether you're enjoying or producing music, our Nero MB5 is an expertly engineered monitor speaker that delivers professional-level sound output. This compact and well-crafted powered bookshelf speaker incorporates bleeding-edge audio component technologies including a 5.25" composite fiberglass woofer that consistently supplies vivid, punchy, and accurate bass that doesn't overload the room, as well as a 1" ferrofluid-cooled soft dome tweeter. This type of tweeter is an audiophile favorite because the ferrofluid-treated surface damps unwanted resonances and cools the voice coil to improve sound quality and prevent overheating.
OSD XMP60 50W Compact Stereo Power Amplifier
Original Price $109.00. Black Friday Price $87.20
Our XMP60 stereo power amplifier is a sweet little 60W power amp that delivers clean power to stereo systems and is stereo (4 or 8-ohm stable) or mono bridgeable (8-Ohms critical). Small enough to fit on a desktop or table, but rack mountable with included mounting brackets, this compact amp uses highly efficient Class D digital amplifier technology to deliver clean and reliable power to a set of speakers or a subwoofer when bridged to mono. A great way to bump up the volume and sound quality of office, kitchen, or bedroom audio setups or to enhance your gaming experience, the XMP60 includes a '' microphone input and even doubles as an audio mixer.
---

---
Gifts for the Movie Lover
Do you have someone in your life that is an avid Movie Lover? Well, Dialogue, Sound Effects, and Soundtracks are the unsung heroes of a movie. So why not, give the gift of better audio for your loved ones who have Home Theaters or aspire to build one. This could be the building blocks they need to start piecing together a great sound system to give their favorite movies that extra pop of excitement.
ACE670 6.5" Angled Trimless LCR In Ceiling Speaker
Original Price $130.44. Black Friday Price $104.35
With the ACE670 trimless in-ceiling LCR angled speakers, you'll get imaging and staging that would be lost with regular down-firing in-ceiling speakers. Features include a sturdy 6.5" Carbon Fiber Woofer fixed at a 15° angle, a 1" aluminum dome tweeter, and a 90W power handling. You can even use them for Dolby Atmos® front, rear and side surrounds in a 5.1 or 7.2 system. Contour switches also allow you to tailor the bass and rebel to your preference.
SS8 Slim 250W Powered Subwoofer with 8" Woofer

If you're a home theater aficionado who appreciates a well-designed subwoofer, you'll love our SS-8DSP. This super slim, low-profile powered subwoofer can be tucked away in a corner but when activated will deliver the kind of bass that makes movies, music, and gaming soundtracks come alive. The SS-8DSP enhances bass performance and ensures extremely low distortion with the latest Digital Sound Processing (DSP) technology that can be controlled via a phone or tablet. This low-profile subwoofer handles up to 250-watts of power and includes an 8" injected cone woofer to serve up bass that is deep, smooth and robust, while low-noise vents cut distortion at the bottom of the frequency range, giving you clear sound without sacrificing the bass quality.
Nero XA5180 Multi Channel (5X) Home Theater Amplifier, 150W RMS per Channel

Original Price $699.99. Black Friday Price $629.99
Adding a separate amplifier is essential to experiencing spine-chilling surround sound, and our NERO-XA5180 delivers on power. This Class H amp supplies 150W to five separate channels, so each speaker in your surround set up receives a generous amount of power rather than having to share power with the sound array. When paired with great speakers, you'll hear music and movie soundtracks with exceptional clarity and warmth, and the advanced circuitry, wide bandwidth, and low distortion capabilities do their share in providing sonic nuances that turn a decent home theater into a high-end movie-theater level experience. This formidable home theater amp can be matched with power-hungry in-wall or freestanding loudspeakers and is designed with a high-output toroidal power supply.
---

---
Gifts for Home Owners

Filling your home with music can bring a magical ambiance to it like no other. Whether you love hosting parties and get togethers, or need something playing in the background while doing chores, or if it keeps you calm and focused while working or studying, adding audio to your whole home has never been easier. Get started today with some of our best Home Audio devices on sale while supplies last!
Nero ARC 4, 6, 8 and Sub Hanging Pendant Speakers

Original Prices $89.99, $129.99, $188.99, $219.99. Black Friday Prices $76.49, $110.49, $160.64, $186.99
OSD's Nero Arc 4, 6, 8, and ARCSUB Coaxial Pendant Speakers and Subwoofer are Designed for Commercial and Demanding Applications. Ideal for Installation where Conventional Ceiling or In-Wall Speakers are Limited by Unique or Challenging Architectural Constraints. Stylish Design Resembling Suspended Lighting Fixtures, the Nero Series Blends Aesthetically in Most any Stylish Environment, from High-End Home Installations to Restaurants, Bars, Libraries, Museums, and Anywhere a Pendant Speaker System is Appropriate. 120° Dispersion Assures All-Inclusive Coverage for a Wide Range of Listening Positions. 70V Operation Allows for Multiple Speakers for Broad Coverage and Long Runs of Wiring.
MX1280 6 Zone, 12 Channel 80W/ Channel Class D Power Amplifier

Original Price $779.99. Black Friday Price $699.99
Our MX1280 is a powerful 6-zone 12-channel digital amplifier for commercial and residential audio systems that require reliable power in multiple zones. A slim 2U, rack-mountable and cool-running multi-room amplifier, the MX1280 includes 12 channels rated at 80 watts each at 4 ohms/50 watts at 8-ohms and can be configured as the main amplifier for an audio distribution system such as for background music, paging, and multi-zone audio or as an amplifier for 5.1 or 7.2 home theater surround sound systems.
OSD Black R51 5.25" In Ceiling Speaker Pair
Original Price $69.99. Black Friday Price $55.99
The R51 In Ceiling Speaker Pair are premium-quality, flush-mount loudspeakers designed to serve discriminating homeowners and A/V integrators who demand the ultimate in aesthetic style and audio performance. BLACK products include unique features and technologies that make them better looking, easier to install and more durable, while delivering lifelike sound quality more typically found in free-standing audiophile-grade speakers.
Related Posts and Information
---
overall rating:
my rating:
log in to rate
Black Friday Gift Guide Holidays Sale Discount Deals 8 Ohm amplifier App Controlled Bass Black Series bluetooth systems Bookshelf Speakers ceiling speaker dolby atmos DSP equalizer home audio home theater in wall speakers Indoor Sound System Multi-Room Powered standard Subwoofer trimless whole house audio WiFi
---
Please log in to leave a comment.