Outdoor Speaker Depot Blog
---
by OSD Audio • June 16, 2021
Home Audio Tips, OSD Design Projects
---
The story behind the Nero MODQ speakers.
The increasing transition from listening to MP3 music files to Lossless, High-Definition, files required us to rethink our approach to desktop or nearfield speakers. The vastly improved sound quality from the improved Bit-Depth of 24 Bit sampling meant that every sonic nuance needed to be revealed by the speakers. Lesser speakers are unable to fully reveal and reproduce the increased dynamic range and detail available with Hi-Definition music. Many lower-quality speakers are also simply too fatiguing to listen to for any length of time. We decided to embrace the new high-resolution revolution by designing a speaker that could reveal every single detail and all of the increased dynamic range, and do it in a way that would allow hours of listening with no fatigue.
Welcome to the MODQ2 and 3 desk-top/bookshelf speakers.
The all-new speaker design of the MODQs features .75-inch thick non-resonant MDF cabinets housing new state-of-the-art Nero drivers - two 3 inch-inch fiberglass mid/bass drivers, and an advanced 1-inch silk dome tweeter with a powerful neodymium magnet structure. With a nominal impedance of 6Ohms and an efficiency of 88dB's, these are easy speakers to use, needing only a moderately powered amplifier to reveal everything your hi-resolution streaming can deliver.
We looked at classic BBC-designed near-field monitors for inspiration. We wanted to capture everything a studio monitor could reveal from a live recording session and be able to reproduce it at home. The MODQ's are true musical gems and will astound you with their ability to reveal details in your favorite tracks that you may have never heard before. Astonishingly, and because of our direct-to-consumer approach, we were able to do this for less than $200.00.
OSD MODQ3: 120W Dual 3" Glass Fiber Woofers & 1" Silk Dome Tweeter

OSD MODQ2: 100W Glass Fiber Woofer & 1" Silk Dome Tweeter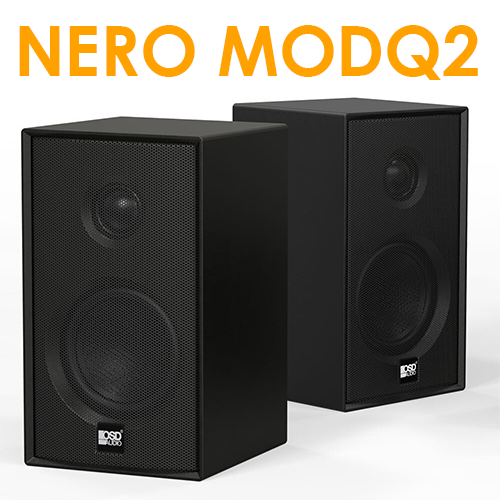 Related Posts and Information
---
overall rating:
my rating:
log in to rate
---
Please log in to leave a comment.