Outdoor Speaker Depot Videos
---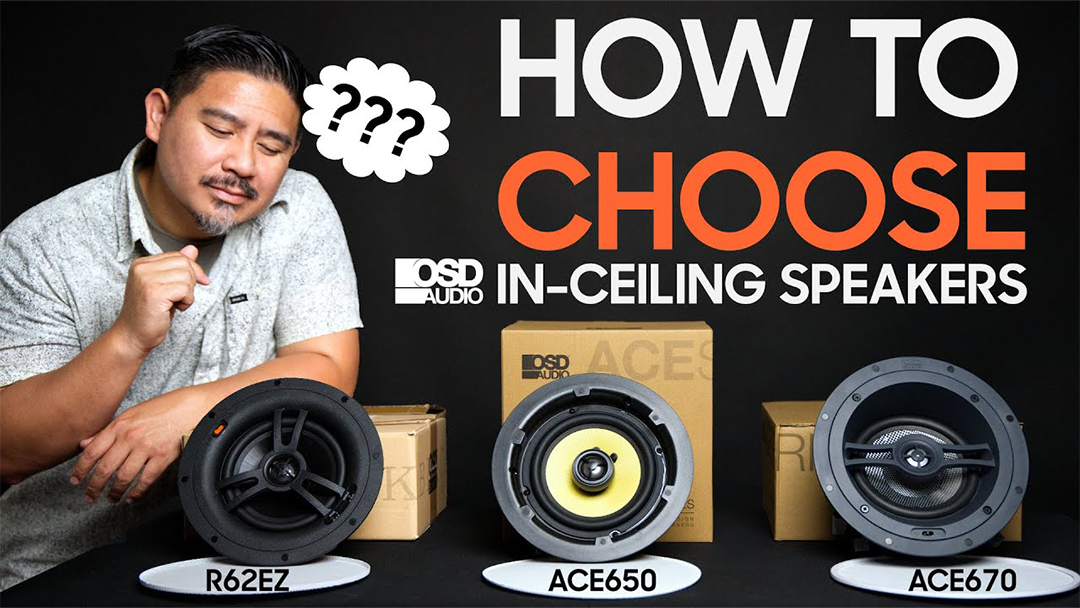 by OSD Audio • August 30, 2021
---
Come hang out and check out our very good friend JoeNTell's latest video as he compares 3 of our top In-Ceiling Speakers the R62EZ, ACE650, and ACE670, and gives you tips and ideas of how to pick which one works best for your home theater or whole-house audio setups.
And for some context here is a quick description of each speaker along with their unique specifications.
R62EZ - 6.5" In-Ceiling Speaker, 1" Silk Dome Tweeter, Quick EZ Mounting System (Single)
A step-up version of the BK-R61EZ, OSD Black's BK-R62EZ 6.5" 2-way in-ceiling speaker provides legendary OSD Black sound quality in an easy to install package. Engineered with audio-enhancing features, this single speaker includes a 6.5" injection molded polypropylene woofer cone that retains more stiffness and is less prone to resonance than cast polypropylene cones, so you'll experience enveloping bass and mid frequencies with a wide sound stage.
Quick EZ Mounting System
The BK-R62EZ includes a built-in EZ Mount System that is a real-time-saver, especially on large jobs. Once the hole is cut (and we include the template), you hold on to the tweeter bridge and simply push the speaker up against the drywall, turning it clockwise about 15 degrees. This engages the EZ Mount System and the dog ear brackets will automatically move outward and secure the speaker to the drywall.
6.5" 2-Way Ceiling Speaker
Power Handling: 120W Max
Woofer: Injection PP Cone
Tweeter: 1" Cat Eye Silk Dome Tweeter with Neodymium Magnets
Adjustable Contour Switches: Bass/Treble
EZ Mount System
Perfect Edge™ Magnetic Grille
Sensitivity: 88dB 1w/1m
Second-order 12dB Crossover Network
Freq Response: 50Hz - 20kHz
Impedance: 8 Ohms
Dims: 9.05" x 3.14"
Cutout: 7.87"
ACE650 - 6.5" Kevlar® Woofer Trimless Thin Bezel 2-Way In-Ceiling Speaker Pair
The ACE650 incorporates premium technologies such as Kevlar® woofers, pivoting titanium dome tweeters, and sophisticated crossovers that provide deep bass and exceptional top-end frequency response. Kevlar® is the best component for woofers. It responds note for note without coloration and has big cranking power so you can dial up your system for higher listening levels.

Audiophiles Love Kevlar® Woofers
Kevlar® is a super-strong material known for its ability to produce powerful but very smooth bass tones. Kevlar® woofer cones retain their shape even at very high energy levels, which means you can crank up the volume and experience spine-tingling sound without distortion or coloration.
Speaker Type: 6.5" Kevlar® Trimless Ceiling Speakers
Woofer: 6.5" Kevlar® Cone
Tweeter: 1" Pivoting Titanium Dome
Frequency Response: 45Hz - 20kHz
Power Handling: 90W
Sensitivity: 89 dB
Impedance: 8 Ohms
Spray Paintable Magnetic Grille Included
Inputs: Gold-plated 5-way Binding Posts
Install-friendly Dog Ear Installation Brackets
Diameter & Depth: 9.25" x 4.5"
Cutout Diameter: 8"
Sold As: Pair
Warranty: 10 Years
ACE670 - 6.5" Angled Trimless LCR In-Ceiling Speaker, 1" Pivoting Tweeter Dolby Atmos® Ready (Single)
With the ACE670 trimless in-ceiling LCR angled speakers, you'll get imaging and staging that would be lost with regular down-firing in-ceiling speakers. Features include a sturdy 6.5" Carbon Fiber Woofer fixed at a 15° angle, a 1" aluminum dome tweeter, and a 90W power handling. You can even use them for Dolby Atmos® front, rear and side surrounds in a 5.1 or 7.2 system. Contour switches also allow you to tailor the bass and rebel to your preference.
What Are the Benefits of an Angled In-Ceiling Speaker?
The angled speaker is a real problem solver because not every space is ideal for custom home theater sound applications. The angled in-ceiling speaker features a 15° angle for the mid-bass driver plus a pivoting tweeter for placement flexibility. This speaker can be part of a three-piece set to handle the front stage of the surround system when both on-wall and in-wall are not a favorable option.
Speaker Type: 6.5" Angled LCR 2-Way Trimless Ceiling Speaker
Woofer: 6.5" Carbon Fiber Composite Cone Fixed at a 15° Angle
Tweeter: 1" Pivoting Aluminum Dome
Frequency Response: 45Hz - 20kHz
Power Handling: 90W
Sensitivity: 89 dB
Impedance: 8 Ohms
Dolby Atmos® - Ready for True 3D Surround Sound
Includes Front-Mounted Contour Switch
Angled Design Allows Ideal Placement Closer to the Wall
Spray Paintable Magnetic Grille Included
Inputs: Gold-plated 5-way Binding Posts
Install-friendly Dog Ear Installation Brackets
Diameter & Depth: 9.75 x 4.5"
Cutout Diameter: 8.12"
Sold As: Single
Warranty: 10 Years
Related Posts and Information
---
overall rating:
my rating:
log in to rate
ceiling speaker dolby atmos home audio home theater WiFi trimless whole house audio