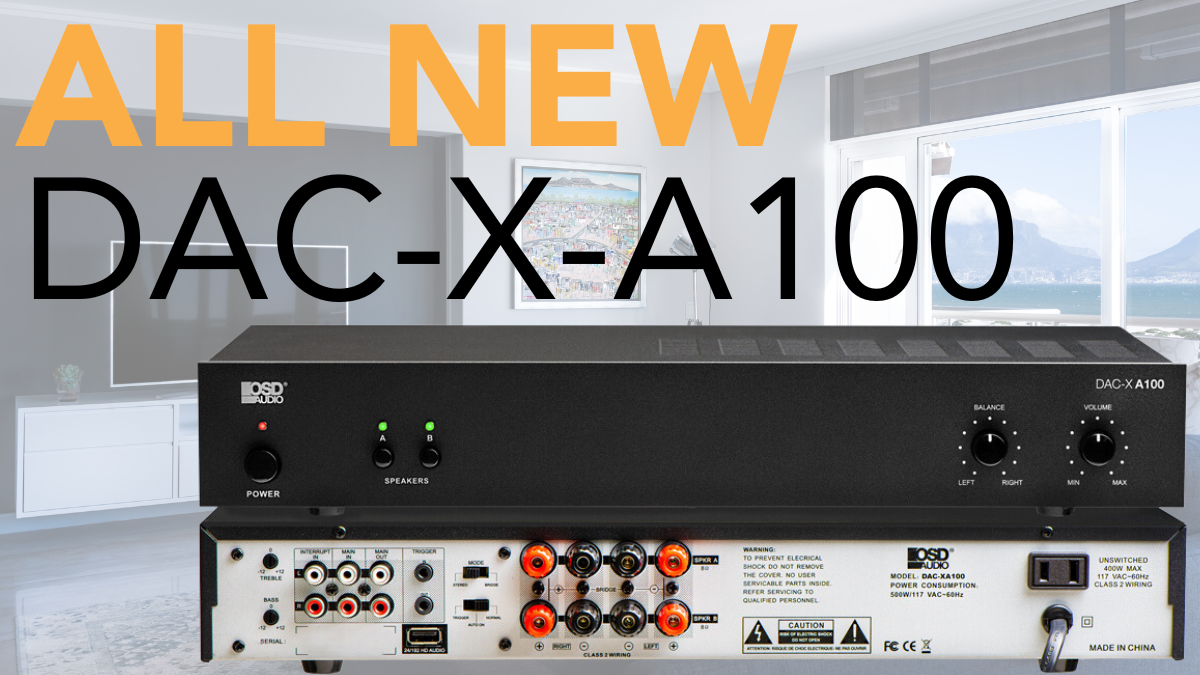 The OSD DAC-XA100 is a 100W RMS stereo power amplifier with built-in USB audio and AB speaker switching. It features a high-quality DAC chip that supports up to 24-bit/192kHz audio resolution, as well as a powerful amplifier that can drive a wide variety of speakers. Read more below for more information of the amps features.
Advanced Internal DAC: Unmatched Audio Clarity
Featuring the cutting-edge CT7601+ES9018KM2 Internal DAC, the DAC-X-A100 supports 24Bit/192kHz, ensuring high-resolution audio that is second to none. The Class AB amplifier expertly combines the strengths of both Class A and Class B amplifiers, resulting in audiophile performance, minimal distortion and efficient operation. Prepare to be amazed by the outstanding clarity and precision of the sound produced by this state-of-the-art device.
Channels/Zones: Experience Dual-Zone Flexibility
The DAC-X-A100 comes equipped with two pairs of speaker outputs for use in two zones, offering remarkable flexibility for your audio setup. Whether your goal is to create a multi-room audio experience or simply optimize your current sound system, this versatile device has you covered. Effortlessly switch between zones and tailor the perfect audio configuration for any event or occasion.
Power Output: Superior Power and Minimal Distortion
Boasting a power output of 50W(RMS) or 120W(MAX) per channel at 8 Ohm, the DAC-X-A100 delivers potent, crystal-clear audio. Moreover, the device maintains an incredibly low distortion rate of less than 0.2% THD, ensuring clean and crisp sound quality every time. Enjoy powerful, distortion-free audio that is truly breathtaking.
Frequency Response: Embrace the Extensive Sound Range
With an impressive frequency response of 10Hz to 20kHz, the DAC-X-A100 captures a wide range of sound frequencies, providing a rich and full audio experience. From the deepest bass notes to the highest treble tones, this device has it all. Delight in the incredible depth and detail of your music, movies, and other audio content.
Impedance: Stable Performance for a Seamless Integration
The DAC-X-A100 is compatible with both 8 Ohm and 4 Ohm speakers, ensuring stable performance and seamless integration with your existing audio setup. Enjoy flawless audio quality and compatibility with a variety of speaker systems.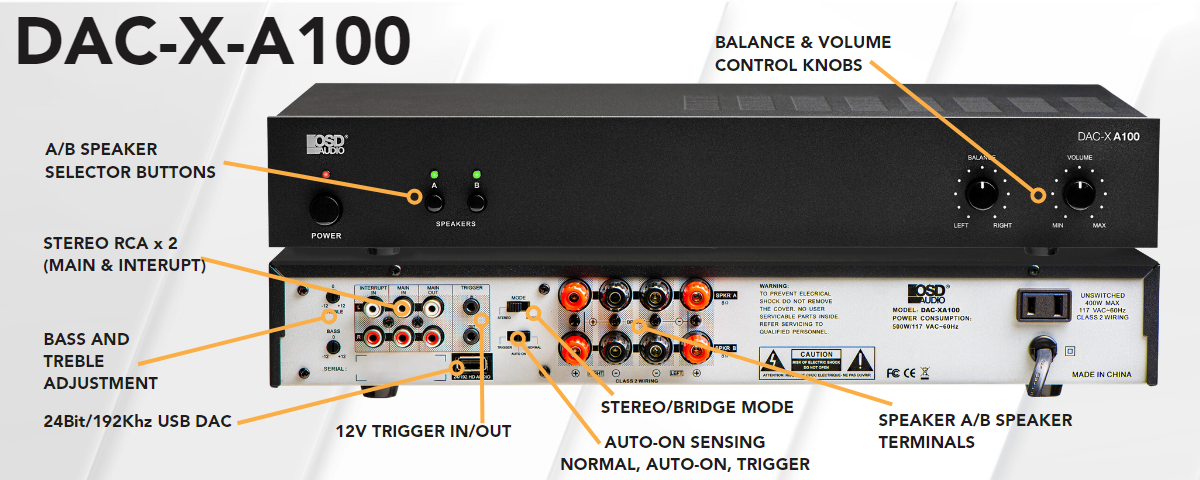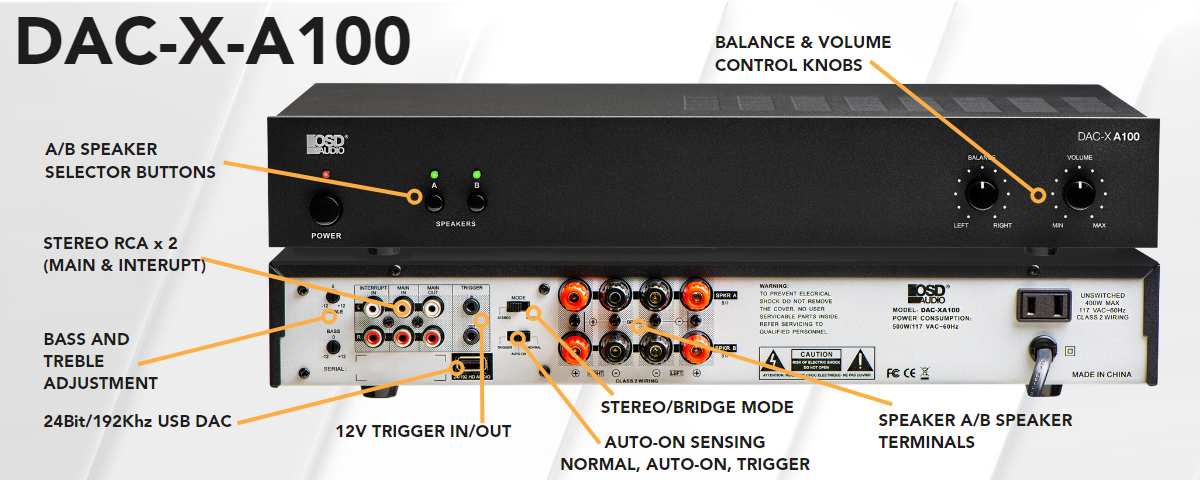 Inputs/Outputs: Versatile Connectivity Options
The device offers versatile connectivity options, including outputs for Speakers A + B and Stereo RCA Pass Thru on Main Line Input Only, an Interrupt RCA input that automatically takes over when something is playing, and a USB Audio input for connecting to digital sources. These options allow you to easily connect and manage multiple audio sources, ensuring the best possible audio experience.
Controls: User-Friendly Customization
The DAC-X-A100 features user-friendly controls, such as a Speaker Selector, Volume, Bass, and Treble adjustments. These controls give you complete authority over your audio experience, allowing you to customize the sound to your preferences and enjoy audio perfection.
Certification: Trusted Quality
The DAC-X-A100 comes with CE certification, meeting essential European safety and environmental standards. This certification ensures the device's quality and reliability, giving you peace of mind and confidence in its performance.
Warranty: A Worry-Free Investment
We stand behind our product with a generous 2-year warranty, providing you with the confidence to invest in this extraordinary audio device. Trust in the exceptional performance and durability of the DAC-X-A100, and take your audio experience to new heights.
Purchase here: https://www.outdoorspeakerdepot.com/100w-rms-stereo-power-amplifier-with-built-in-usb-audio-ab-speaker-switching.html
Download the Spec Sheet Below: