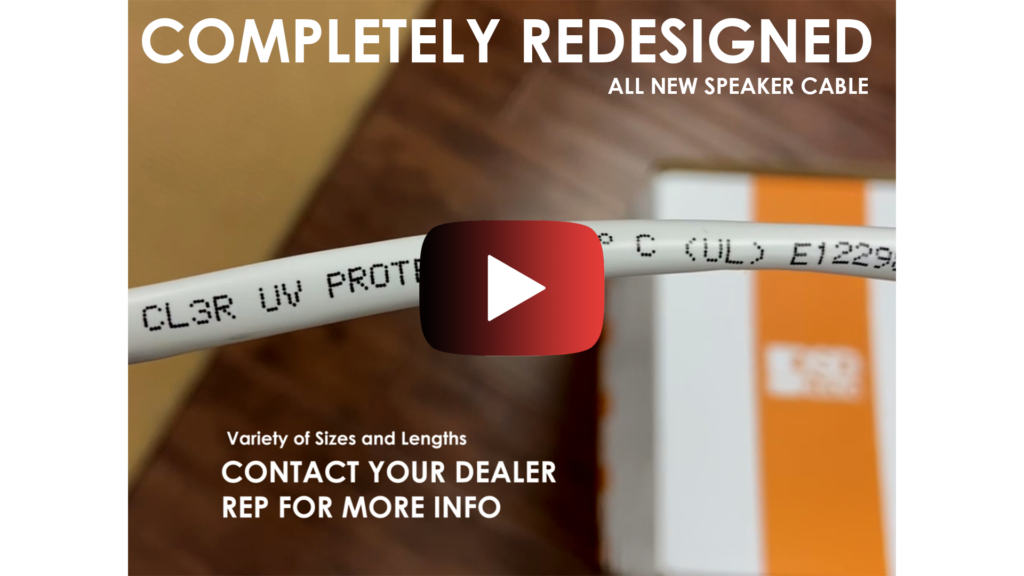 Choosing the right speaker wire:
Keep in mind that the gauge or thickness of your speaker wire should depend on how far the wire must travel from the receiver to the speaker. The lower the American Wire Gauge (AWG) number, the thicker the wire. Significant power losses can occur over the longer runs, resulting in lower performance. While this probably will not be a problem in most single-room setups, it could be an issue for multi-room/zones systems, especially outdoor applications.
The following is a guideline:
Distance from Components to the speaker (full-range signal)
Less than 80 feet: 16 AWG
80 to 200 feet: 14 AWG
More than 200 feet: 12 AWG
(Lower Frequencies, Subwoofer)
Less than 50 feet: 14 AWG
More than 50 feet: 12 AWG
Note all our Indoor Volume Controls and Speaker Selectors recommend16 AWG but will accept 14 AWG. Outdoor Volume Controls use wire nuts for termination (16 /14/12 AWG).
In-Wall Rated Wire/Cable
In-wall approved wiring and cables are rated by the outer jacket so 1) It will not burn, just melt when exposed to fire inside the wall 2) And when it melts it will not give off toxic fumes. It has nothing to do with the signal, impedance, or resistance of the internal copper conductors.
Cable Ratings:
US/Canada Description
CL2/FT1 All Residential Applications
CL3/FT4 Most Commercial/All Residential
Plenum/FT6 Plenum Space/All Commercial*
The Plenum Space: that can facilitate air circulation for heating and air conditioning systems, by providing pathways for either heated/conditioned or return airflows. Cables approved for these have to be Plenum-rated.
OSD Audio CL3 Rated Cables
All OSD Speaker cables offer a CL3 rated jacket and are available in several different configurations both two and four conductors including 16/2, 16/4, 142, 14/4, and 12/2. Lengths of 500 feet (pull boxes) and shorter lengths; cuts of 50ft, 100ft, and 250ft. Two conductor jackets (16/2, 14,2 & 12/) are available in both black and white jackets. Four conductor jackets (16/4 & 14/4) are white only.
New Updates to OSD Cables Features
Heavy-duty two/four-conductors 16/14/12-gauge speaker cables
White jacket: 16/4, 16/2, 14/4, 14/2, and 12/2, Black jacket: 16/2, 14/2 & 12/2
Rated for both burial outside and in-wall/in-Ceiling installations
Ideal for shorter cable runs with 8-ohm speakers
Highly conductive, oxygen-free 100% copper strands
High Strand Count: 16 AWG: 65 strands, 14 AWG: 105 strands, 12 AWG: 65 strands
Provides reliable signal transfer over long distances
UV-resistant polypropylene sheath seals out moisture
Includes tissue-wrapped conductors for quick stripping
Reinforced box with large payout hole for fast and smooth cable runs – Available for 500FT only
Extra-sturdy box includes the patented REEFLEX design that prevents twists, knots, and tangles – Available for 500FT only
Built for commercial and residential installations, our Professional Grade speaker cable is designed for pros who want to provide customers with the best quality audio and get the job done quickly and efficiently. Rated for both in-wall and direct burial use, this two-conductor high strand count copper cable provides excellent signal transfer for installations where background music is needed, and the 16-gauge thickness is ideal for shorter wire runs (under 80 ft) with 8-ohm speakers. The reinforced but flexible polypropylene jacket is UV resistant and protects the copper conductors from high heat and cold conditions as well as dirt, dust, and other elements that can degrade cable integrity. Features that cater to demanding integrators include a reinforced box with an easy pull, snag-free design, and tissue-wrapped conductors for quick stripping. The extra sturdy box has a large payout hole, so cable runs are fast and smooth while the patented REELEX technology pulls coils from the inside out to prevent twists, knots, and tangles that can slow job progress. This sturdy audio speaker cable also includes two-foot increment printed markers so you can determine how much cable has been used and how much is left in the box, making long cable runs easier than ever.
Features and Specifications for the New OSD CL3 Rated Speaker cables