OK, you are looking for an outdoor speaker system. What kind of space do you want to fill with music? Is it a smaller space like a deck or patio, or a larger space like the whole yard, perhaps with a swimming pool, hot tub, BBQ, and firepit areas?
Outdoor Speaker Systems for Large Spaces
For a larger space, we recommend separate zones so that each zone can be as loud, or quiet, as you want. The problem with only one pair of speakers in a large yard is that the sound will be either too loud or too quiet depending on where you are.
With multiple zones and speakers, the whole system can be played at a lower level and still be perfect in each area. This is a better solution for you and your neighbors. You can even add separate volume controls for each zone, allowing different levels depending on what is happening in that area. At the outdoor dining table, the volume could be set low to allow conversation. Meanwhile by the pool, with all of the noise going on, you can have the volume louder.
Map Out Your Zones
For larger areas, you need to decide how many areas or zones you want to have. For example:
If you are outside to BBQ and you want to have music playing, the BBQ area would be a zone.
If you have a fire-pit and just want music playing late at night softly, then this would be another zone.
The pool or hot tub could be the third zone.
On the other hand, you could be entertaining family and friends and want all zones or areas playing music at the same time; this would be a 3 zone system. You can add as many zones or areas as you like.
Outdoor Speaker Systems for Small Spaces
For smaller areas, you may only need one zone. You are less likely to need additional power sources, and you won't require as many speakers. But that doesn't mean you should automatically opt for lower-quality outdoor speaker systems. Just because the area is smaller, doesn't mean you should sacrifice sound quality, control, or durability.
Different Outdoor Speaker Designs
Once you've mapped out your zones, it's time to decide what type of speakers you would like. There are typically 4 choices.
Rock Speakers
Rock speakers are designed to look like natural rock and blend into flower beds or shrubs. They come in different sizes and different finishes.
Omni Speakers

Omni-directional speakers radiate sound evenly in a 360° pattern, so you'll hear rich and immersive audio whether you're sitting down or walking around the backyard. These incredible outdoor speakers bring your music to life, making it sound like your own personal concert outdoors. They are popular in a wide variety of outdoor settings, including backyards, resorts, hotels, and even theme parks.
Surface Mount Speakers (Patio Speakers)
Surface mount speakers are designed to be mounted on a surface such as the outside wall of your home. They could also be mounted to walls or even trees. Consider whether you're comfortable drilling into your surfaces before opting into this style.
Landscape Speakers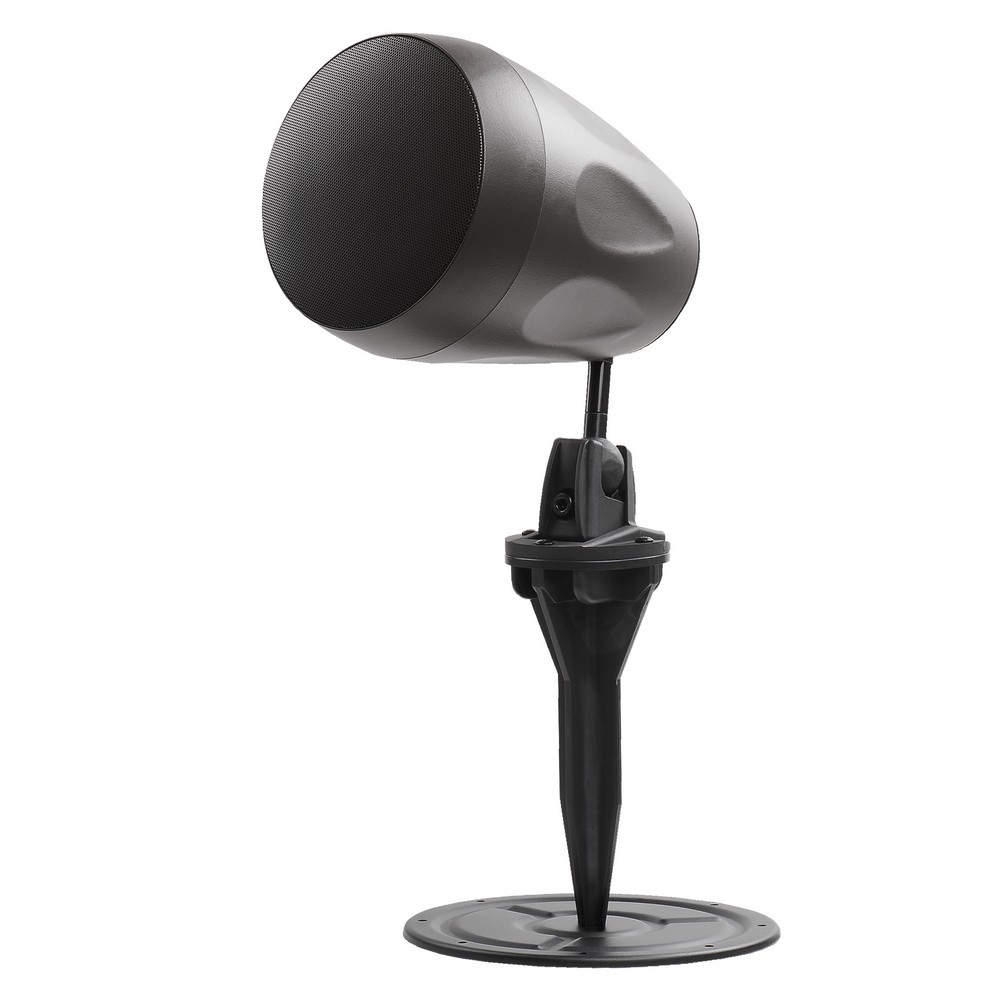 Landscape speakers are designed to blend into the landscape and usually look like something else you might find in your yards, such as garden lights.
TIP: Do not forget to add at least one subwoofer to create the best possible sound.
Power Options for Outdoor Speaker Systems
Self-Powered Speakers
If you have a power outlet available and you just want to plug the speakers in and stream music from your phone, a self-powered option may be a good one. You do not have to 'run' speaker wires into the house or to a separate amplifier, just between the speakers, so this is an easy option.
The only downside is that the power is a little limited and the audio quality is reduced, still great, but not absolutely the best.
Non-Powered Speakers
This option will give you more power and better sound, but you will need to determine how to connect them to an amplifier or AVR. This is not a big deal but has to be planned for.
Amplification Options
Running Cables
Your next decision is whether you put an amp outside in a weather-proof enclosure, or run the speaker wires into the house to connect to an amp or AVR. This might make you reconsider where you want to place the speakers. You must be able to get speaker wires to each of the speakers from the amp source.
Typically, I would suggest taking the wires from the speakers directly to the nearest boundary. Follow the boundary until you are nearest to where the equipment is, either inside or outside the house. Then make a direct run to that location. Use the thickest speaker cable possible (at least 14 gauge for lengths over 50ft). Make sure it is CL3 rated for direct or free burial underground. Bury at least 6 inches underground.
If there is no direct route to the boundary, and you do not want to invest in getting around what is stopping you, then consider different locations for the speakers. The plan must be practical.
Music Source Options
Once you get all the cables to the equipment you need to decide what you want to be able to listen to. Most likely you will be streaming from your phone or at least controlling a streaming source from your phone. If you are streaming from your phone most likely it will be via Bluetooth and this has distance and interruption limitations. It is better to use Wi-Fi and your phone to control a streaming source located with the amplifier. Our OSD Black SRT1 is the ideal product for that, but you could also use an Amazon Echo Dot.
Connecting Your Speakers
When you have chosen your source, you must decide how to get the speakers connected. Here are the options:
For simple one-zone systems, you could connect the speaker wires to your AVR. Most have a Speaker A or B options and you can use the B speaker outputs.
For systems with more speakers, you can add one of our speaker selectors, with or without volume controls. Ultimately you could add a dedicated high-power amplifier for the outdoor speakers, such as our 8, 12, or 16 channel MX models. This will give you more power, lower distortion, and better sound. Simply plug the streaming source in, the amp turns on automatically, select your music from your phone and start listening.
Does My Outdoor Speaker System Need a Subwoofer?
Yes! Finally, to put the icing on the cake, add an outdoor subwoofer to complete the perfect listening experience. This is not about booming, loud bass that annoys the neighbors. Subwoofers will provide a full frequency range and less distortion.
For a single zone system, place the subwoofer near the main speakers. For multi-zone systems, choose a central location. Check out our blog on how to choose an outdoor subwoofer. Once you have decided, choose the best matching amplifier and place this with the rest of the equipment.
Need Help With Your Outdoor Speaker System?
For more complicated systems we offer a design service called 'Have a Plan'. This service will help you with your designs and ensure that you are choosing the right products. Feel free to contact us if you need recommendations on products and systems for your space.